What's The Best First Dance Song For You?
The "First Dance" is a traditional custom that reiterates the love and bond of a couple just joined together in marriage. This is the part of the Reception that some couples go so far as to take dance classes for. It is a tear-jerking moment for everyone watching, but for the couple, it is a time to showcase their affections through dance. What brings this compassionate event together is the song of choice
What are the characteristics of your love?
What's often referred to as the "Wedding Song" must be of some importance or influence over the couple's union. This is where the many characteristics of your relationship has its opportunity to manifest itself through song and dance. My marriage to my best friend is full of craziness, fun, silliness and deep romance. Our first dance would reflect all those things. Is there a song that you've bonded over? A song that gives you butterflies or memories of love and laughter are great picks for your first dance.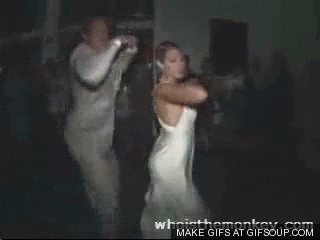 What kind of dance are you interested in?
If you're into the waltz or any other form of ballroom dance, then a slow-paced ballad is what you're looking for. Some couples even opt to perform multiple dances of 2 or even 3, showcasing their love and bond with different songs and forms of dance. We've all seen that fun couple start off slow and romantic, and suddenly break into an all-out dance fever exposition. I've even seen dance battles take place on the dance floor between the bridal parties on YouTube. Whether you're shy or flamboyant, your first dance will reflect you both as a duo.
Thought of Something Yet?
If not, let us help. Below we'll list a couple of awesome first-dance songs and attach a couple lyrics that'll make your tummy flutter.
"At Last" By Etta James | This is a completely timeless ballad of love and romance. The song played at any wedding is sure to produce dozens of awes around the room. Quotable lyrics: At last, my love has come along. My lonely days are over, and life is like a song.

"Lady in my Life" By Michael Jackson | Throw-back to one of the best MJ hit singles. Quotable Lyrics: Listen to my heart, lay your body close to mine. I can feel you with my dreams, I can make you feel alright. And baby through the years, Gonna love you more each day. So I promise you tonight, that you'll always be the lady in my life.

"Kiss of Life" By Sade | This is one of my favorites, as it's one I've personally bonded to with my own husband. Quotable Lyrics: There must have been an angel by my side, something heavenly led me to you. Look at the sky, it's the color of love.

"Walking on Sunshine" By Katrina and The Waves | A bit quirky for a first dance song? Perhaps. But fun no less! Quotable Lyrics: I used to think maybe you loved me, now I know that it's true. And I don't want to spend my whole life just waiting for you. Now I don't want you back for the weekend, not back for a day, (no, no, no!) I said baby I just want you back and I want you to stay.

"I Believe in You and Me" By Whitney Houston | Everyone remembers the iconic soundtrack from "The Preacher's Wife". Ms. Houston's voice will forever be unmatched. Quotable Lyrics: I believe in you and me, I believe that we will be, in love eternally, well as far as I can see. You will always be the one, for me.

"Let it Burn" By Jazmine Sullivan | This love ballad was one of the best hits of 2015. Quotable Lyrics: I wanna be good to you baby ooh, (call me crazy but I think I found the love of my life, that's right). Have you ever felt warm on a cold cold night? That's how it gets you when you least expect it, and you can reject it. That crazy little tingling feeling pain in your chest yes (that's love).

"For the Love of You" By The Isley Brothers | This is such an amazing song. The rhythm and lyrics are just too perfect to not dance to at least once at your wedding. Quotable Lyrics: Lovely as a ray of sun, that touches me when the mornin' comes, feels good to me (yeah) my love and me.

"Thinking out Loud" By Ed Sheeran | This ballad is one of the most "I need a man to say these things to me" songs of this new-age generation. Quotable Lyrics: When my hair's all gone and my memories fade, and the crowds don't remember my name. When my hands don't play the strings the same way, I know you will still love me the same. Cause honey your soul can never grow old, its evergreen. Baby your smile's forever in my mind and memory.

"L-O-V-E" By Nat King Cole | It may make you think of something else, but am I the only one that thought of the cruise wedding scene from The Parent Trap? Quotable Lyrics: Love is all that I can give to you, love is more than just a game for two. Two in love can make it, take my heart and please don't break it. Love was made for me and you.

"Angel" By Anita Baker | This song is a pure tear jerker. Quotable Lyrics: Dreams are dreams, and some dreams come true. I found a real dream, baby when I found you. You're so strong, but tender too, you're my angel.

"A Thousand Years" By Christina Perri | AKA that awesome song from the end of the Twilight Movie Saga. Quotable Lyrics: I have died everyday waiting for you. Darling don't be afraid I have loved you for a thousand years, ill love you for a thousand more.

"(I've Had) The Time Of My Life" Jennifer Warnes & Bill Medley | Can't finish this list without a staple classic. Get into some dance classes and learn this entire routine for a total crowd-pleasing performance! (If you're into that sort of thing of course.) Quotable Lyrics: Now I've had the time of my life, no I never felt like this before. Yes, I swear, it's the truth, and I owe it all to you.

"Young and Beautiful" By Lana Del Rey | This song and its' message is just absolutely beautiful to me. With this selection, I'm sure you'll drift away in bliss, imagining it's just the two of you dancing in utter space. Quotable Lyrics: Will you still love me when I'm no longer Young and Beautiful? Will you still love me when I've got nothing but my aching soul. I know you will.
Thank you for taking the time to read our blog! We at CTO Bridal sincerely hope you've enjoyed this post.Check out our other Blogs for more tips and follow us on all our social media to be notified of new posts!
#firstdance #wedding #bridal #firstweddingdance #weddingdance #weddingtips #bridaltips #bridalblog #weddingblog #firstdancesongs #weddingsongs #bridalsongs